Its Gonna Be May Gif
You can download and share Its Gonna Be May GIF for free. Discover more American Gif, It's Gonna Be Me Gif, Jive Records Gif, Music Gif, NSYNC Gif.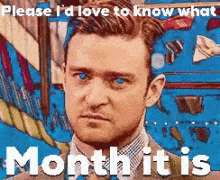 It's Gonna Be Me
It's Gonna Be Me" is a song by American boy band NSYNC. It was released through Jive Records, as the second single from their second studio album No Strings Attached (2000) in the United States, and as the third single from the international edition of No Strings Attached.