Turning Red Abby Gif
You can download and share Turning Red Abby GIF for free. Discover more 13-year Gif, Animated Gif, Chaotic Gif, Cute Gif, Disney Gif.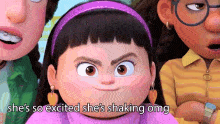 Turning Red Abby
Abby is a fun loving, yet chaotic 13-year-old who is very supportive of her friends. She can also be quite aggressive, as shown when she confidently punches Mei when she requested for it.